With post-pandemic demand growth on the horizon, airports and others in the aviation industry are designing ways to offer seamless experiences at sustainable, digitally enabled facilities.
The airport industry, a significant contributor to the global economy, is going through a major transformation as it prepares for a post-pandemic recovery. Between 1980 and 2018, domestic and international air passenger traffic grew by six times, from 0.8 million to 4.5 million per year. As the pandemic spread in 2020, global airport traffic plummeted by 60 percent, leaving no region unscathed. However, a recovery soon began, and airport traffic is expected to reach 83 percent of 2019 levels in 2022, surpass 2019 levels in 2024, and continue to rise through 2025, reaching 111 percent of 2019 levels (Exhibit 1).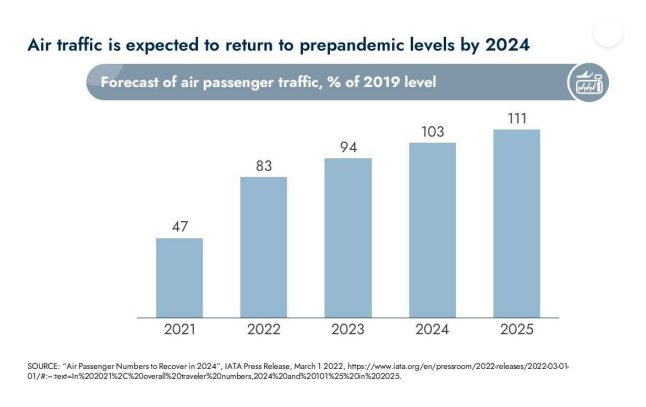 As airports look to meet the demand, four major drivers will shape their transformation. First, customers, society, investors, and governments are clamoring for greater environmental sustainability-and are not always satisfied with progress to date (Exhibit 2). At the same time, airports, like other employers, are encountering workforce shortages, which in part contribute to the attractiveness of investing in automation. The passengers who use airports are another driver of change as they press for travel experiences that are seamless and safe. And airport infrastructure is increasingly inadequate for meeting all these demands, especially as passenger traffic is on the increase. To meet the challenges ahead, airport management will seek to develop an airport of the future-one that is sustainable, digitally enabled, and prepared to deliver a seamless experience to those who visit or work at it.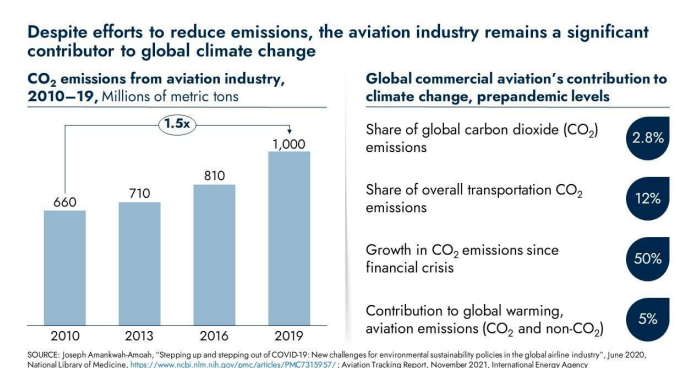 Airports are addressing each of the transformation drivers by making major shifts in their design and operations. To meet the demands for sustainability, airports are becoming greener, with eco-friendly ground handling, efficient ground service operations (Exhibit 3), sustainable aviation fuel (SAF) infrastructure for fuel-efficient aircraft, on-site renewable energy generation, and energy management systems throughout the airport. To address workforce shortages while improving efficiency and customer experience, airports are turning to automation such as robotic terminals, autonomous vehicles, and even drones. To make the travel experience more seamless, airports are investing in contactless technologies, Al, data analytics, and cloud technology. And they are investing in infrastructure upgrades to build large terminals designed to flexibly adjust to new uses with more green spaces and better ventilation.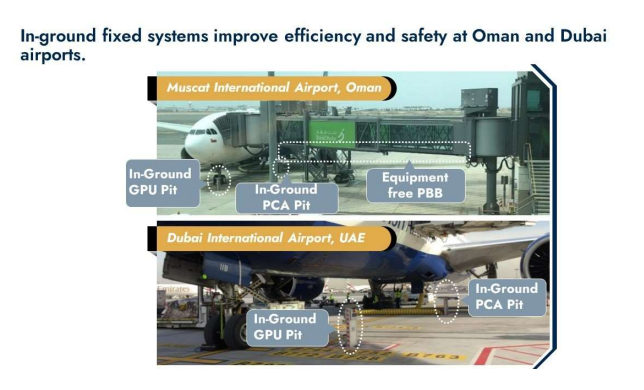 Multiple stakeholders within the aviation ecosystem have a role to play in this digital, sustainable transformation (Exhibit 4). They include airport administration and project teams, government, airlines, ground handling service providers, and ground service equipment OEMs. Some in these categories are acting early and have initiatives under way.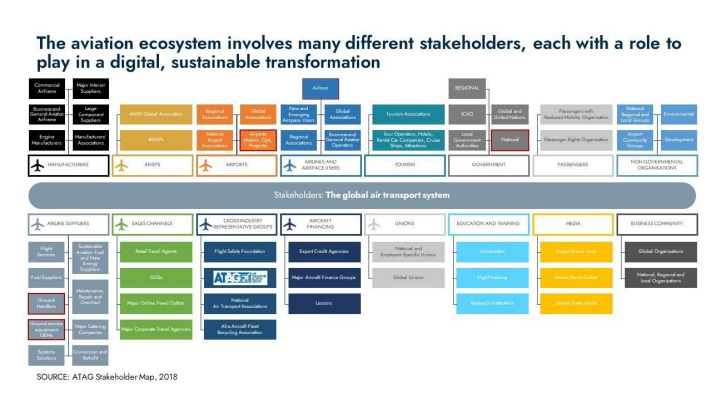 As the stakeholders gear up to play their part in shaping airports' digital, sustainable future, five building blocks need to fall into place for accelerating the transformation (Exhibit 5). These are end-to-end stakeholder engagement, regulations and policies in place, availability and integration of technology, adequate financing for infrastructure projects, and sustained market dynamics to provide a context for favorable returns on investment.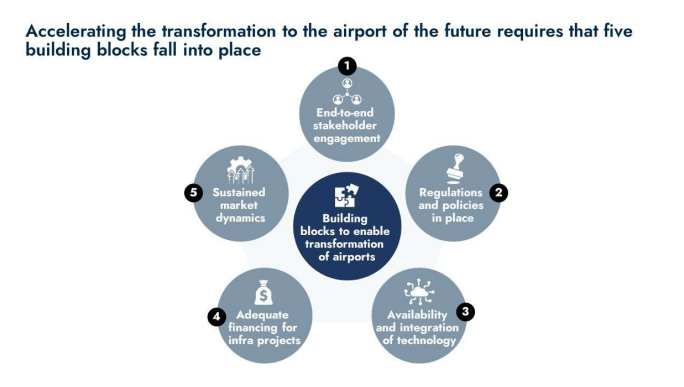 The last 18 months have shown encouraging signs of recovery of demand for air travel, as well as continued expectations for fast-moving supply chains that include air freight when time is of the essence. Airports make all this possible. At the same time, investors and the public demand energy conservation, and passengers demand seamless travel experiences. A transformation is essential to meeting the variety of stakeholder demands digitally and sustainably. That transformation will be multifaceted. It will require visionary leadership, technological insight, and dedicated management, but with these, it is well within the industry's grasp.