DABICO has been at the forefront of innovative 400Hz systems for 50 years.
DABICO has been at the forefront of innovative 400Hz systems for 50 years.

The Group is a leading 400Hz system specialist, with a broad range of 400Hz Point of Use solutions including advanced Solid State Frequency converters, rectifiers, and 400Hz Central Systems with Motor Generators (MG). Our system offering is completed with powerful 400Hz distribution systems such as our 400Hz pits and coilers that deliver the required power through 400Hz jet cables and plugs.

More than 10,000 Dabico 400Hz systems are installed worldwide. Our equipment has been in operation at international hubs, in the harshest of environments for many years. And today, our systems meet the exacting
power requirements of new generation aircraft (A380, A350, and B787 Dreamliner).
DABICO engineers 400Hz systems that can be either based on Point of Use (PoU) or Central systems.

400Hz PoU GPU: DABICO's advanced 2500+ series is designed to global standards for a global market: a single product that meets the needs of airports, airlines and ground handling companies, and in fixed or mobile configurations. It can also be integrated with a 400Hz coiler called the DABICO 2500+ PowerPack I-Connect.

400Hz Central GPU: DABICO central systems are based on the advanced Rotary Vertical Assembly (RVA) series engineered with standard 400Hz output voltages.

Engineered with DABICO distribution panels and gate boxes that represent a unique solution when designing central 400Hz systems.
Our Wide range of
400 Hz Power Products
Can't find what you are looking for?, No Problem
400Hz GPU Solid State Frequency converter
400Hz GPU Rotary Motor Generator
400Hz Jet Cables and Plugs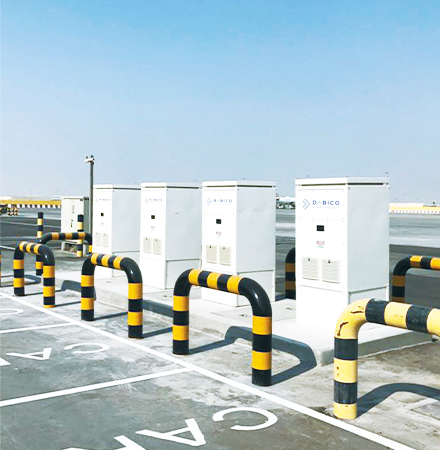 400Hz GPU Solid State Frequency converter
With the Dabico 400 Hz Ground Power Units Series 2500+, we offer to the industry the ultimate 400 Hz solid state frequency converter integrating the highest electrical and communication performances.
The 2500+ meets the needs of today's and tomorrow's demanding aviation industry. NGA Ready: New Generation Aircraft (A380, B787, A350)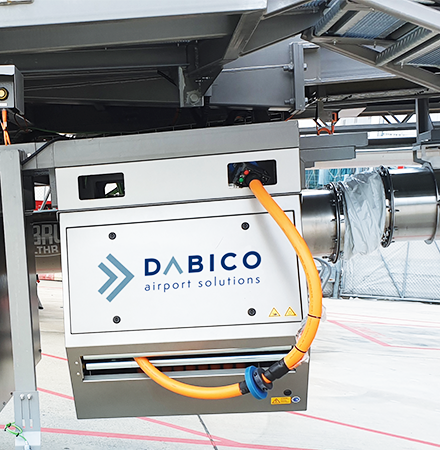 DABICO 400Hz PowerPack is a modern and efficient offering from DABICO which provides a compact solution to power a parked aircraft in any possible stand configuration: under the Passenger Boarding Bridge (PBB), fixed ground mounted, towed mobile or self driven mobile. The unit includes the 400Hz converter 2500+ and 400Hz Cable Coil M28 in one frame. The PowerPack is designed suitably for any worldwide input voltages and frequencies, without the need for adjustments or modifications. The PowerPack is NGA ready and boasts a robust and ergonomic design; which includes features like smart plug-in and motorised cable coiler by default.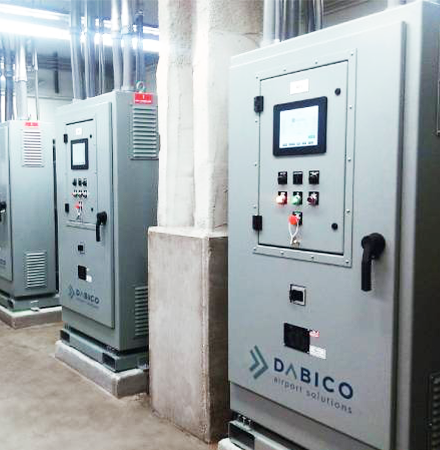 400Hz GPU Rotary Motor Generator
Series RVA – Engineered for central 400Hz systems, motor-generator frequency converters meet all power requirements of the latest commercial and military aircraft as well as 400Hz avionics, missile, and radar equipment.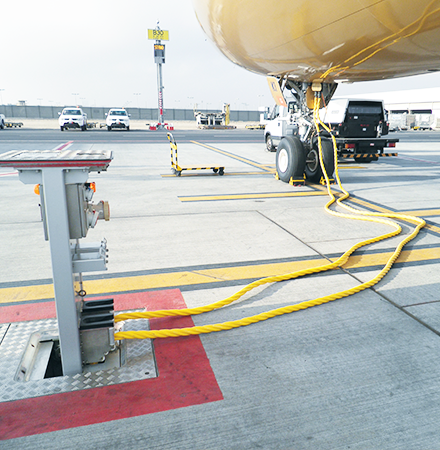 Series Hatch or Pop-up – In-ground 400Hz Pop-up & Hatch pit systems serve as user friendly storage device for 400Hz jet cable and plug (up to 4) and other facilities, such as 50/60Hz outlets. Located very close to the aircraft 400Hz receptacles they are the optimum solution for shortening the APU use at the parking position.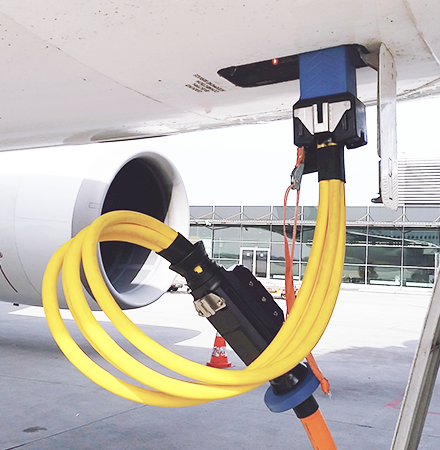 400Hz Jet Cables and Plugs
We build customised designs for 400Hz plugs and jet cables available in multiple configurations and materials according to the selected 400Hz system in which they are integrated (E.g. Cable coiler or 400Hz in-ground pits). DABICO 400Hz plug are in-house engineered with changeable nose and contacts for a longer life time and reduced maintenance expenditure.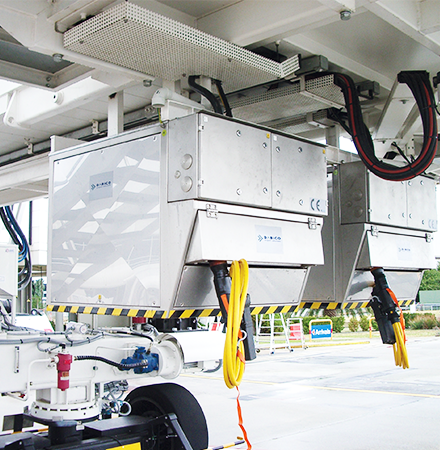 Series MC – 400Hz modular coilers are motorised reeling systems fixed either under the PBB or on the ground. They ensure a fast and ergonomics reeling and storage of the 400Hz aircraft cable and plug resulting in a longer life cycle of them.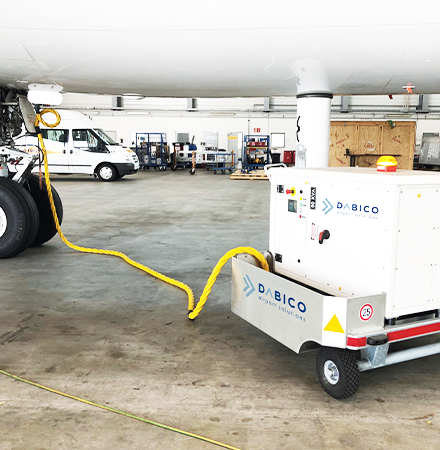 Series Caddies – DABICO caddies are mobile manual or battery driven carts equipped with or without a 400Hz Solid State Frequency converter. They can either be used as a cable extender when connected to a converter or as a mobile electrical 400Hz GPU when equipped with a converter. They provide a unique mobile zero emission solution for airports.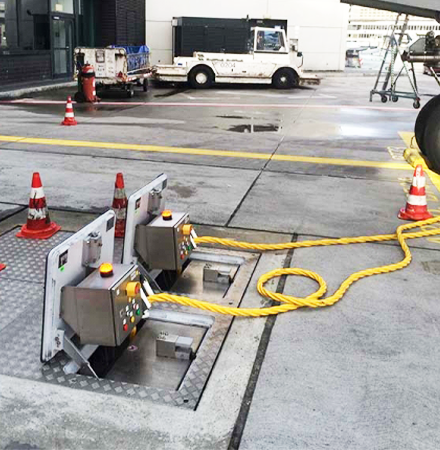 Need a hand? – Cable Friend!
a revolutionary motorized Solution for pulling cables out of your pits!
400Hz GPU Solid State Frequency converter
400Hz GPU Rotary Motor Generator
400Hz Jet Cables and Plugs
Key Benefits that comes with DABICO Products
Ensures aircraft APU can be switched off while on stand/gate under all electrical load and ambient conditions.
Full design and performance responsibility from the 400Hz converter or MGs up to the aircraft 400Hz inlets.
400Hz technology range suitable for all aircraft categories (up to Code F, PF1, 500% overload) and suitable for all ground handling operations in all climates.
One single 400Hz Solid State Frequency technology standardized for all installation configurations providing faster operation deployment and learning while reducing spares requirements.
Tele-remote operation with an application that maps airport gates and installed equipment such as 400Hz converters and Pre-Conditioned Air and ensures a live feedback with information on operation and equipment status.
System design for high performance and availability to serve critical aircraft ground services decreasing downtime with in-house 400Hz GPUs, jets cables and connectors.
400Hz system designed for collision avoidance with DABICO in-ground pit systems ensuring the supply of five services (400Hz, PCA, Potable and Blue water and Sewage extraction).
Stay connected with DABICO Skyway embedded software interface and DABICO Skyway Operator Terminal. DABICO Skyway ensures tele-operation for enhanced and faster operation with real time information and feedback.
Turnkey system offer with in-ground or above ground, Point of Use (PoU) or Central, fixed or mobile systems.
Let's discuss
a solution
for you
Edwin Lisowski
will help you estimate
your project.